Special Price
S$233.91
Regular Price
S$259.90
You Save 10% (S$25.99)
Currently, looking at this product
‌Soft Structured Infant to Toddler Carrier
8 Uses: Front (Inward & Outwards), Back, Hip/Side Carry positions with Crossable Straps, front facing
Designed to use with newborn from 3.2kg onwards to 20kg (about 3 years old)
The Beco 8 Iris Baby Carrier is 8-in-1 baby carrier. All-seasons all-positions. Includes infant insert, built-in headrest, sleep hood, waist belt pocket, removable lumbar support, and a zippered panel to reveal our signature 3D mesh for a breathable comfort.
Form and function unite in one beautiful package for this smart baby carrier. With its deluxe ergonomic convertible seat, built-in headrest, generous leg padding and ventilated 3D mesh panel, BECO 8 is the ultimate baby carrier option for growing babies. Crossable shoulder straps offer extra adjustment for the perfect fit. Built-in waist belt pocket completes the package.
The Beco 8 Iris Baby Carrier features classy black base color with white polka dots.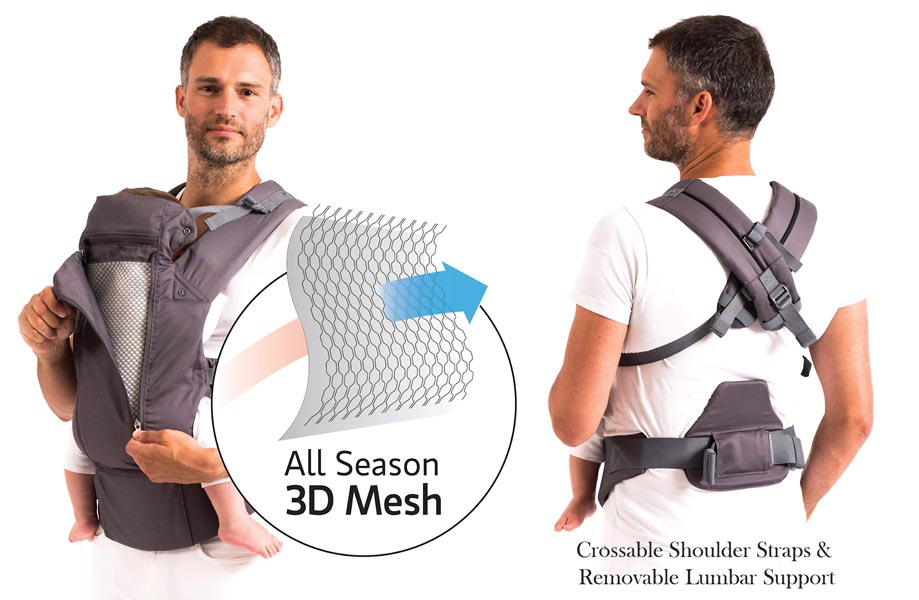 Highlights
8 uses in 1 carrier - 2 newborn size options, Mesh panel option, Front carry inward, front facing outwards, backcarry & hip carry.
Includes infant seat for use with infant from 3.2kg
Includes removable lumbar support for additional comfort
Shoulder straps can be used backpack style or cross strap for greater comfort

Comes with 3-D Mesh window on carrier panel for improved ventilation that can be covered up when it turns cold
Made of 100% cotton except 3D-Mesh

Features
Supports baby in an orthopaedically appropriate 'M' ('frog leg') position that allows for healthy growth of the hips, pelvis and spine.

Comes with built-in headrest as well as removable sleeping hood
A built-in pockets on the hip belt that is great for on the go storage for small items like cash, mobile phones, pacifiers, keys etc.

High density foam waist belt for a close fit on the waist or hips, according to individual preference. This effectively distribute the weight of the baby over the hips and takes most of the weight off the shoulder straps.

Heavy-duty, military grade buckles prevent unexpected opening and ensures peace of mind. Buckles are padded for extra comfort for wearer.
Rugged, durable and easy to clean. Machine washable.
Light-weight & compact design makes it easy to bring on shopping trips & vacation.
Can be used for children 3.2 to 20kgs
More Information
Carrier Net Weight
860g
Carrier Positions
Front Hug Carry, Front Outward Facing Carry, Low Back Carry, Hip/Side Carry
Recommended Child Size Limits
Newborn to about 3 years old
Recommended Wearer Size Limits
Waist from about 27" (68.5cm) to 59" (150cm). Comfortably fits heights from about 5'0" (152cm) to 6'3" (190cm)
Manufacturer Weight Limit
3 to 20kg
Manufacturer Age Limit
Not Specified
Carrier Special Features
Newborn Support Native, Petite Wearers
Material
100% Cotton & 53% Polyethylene Vinyl Acetate Foam, 39% Polyurethane Foam, 8% Polyester Fiber for Mesh.
Included in box

Beco 8 Iris Baby Carrier
Detachable Infant seat
Detachable lumber support pad
Instruction Manual
Customers who bought this also bought these