Mountain Buggy Bag Rider v1
Currently, looking at this product
Cabin Size Luggage (35L) convertible to Toddler Rider
For Child Size: 9 months* - 3 years (*when child can sit unaided)
The award winning Mountain Buggy Bag Rider offers effortless travel time for families by transforming from a two wheeled cabin-size carry on suitcase into a ride on suitcase for toddlers up to 15kg / 33lbs, while retaining its luggage storage capacity.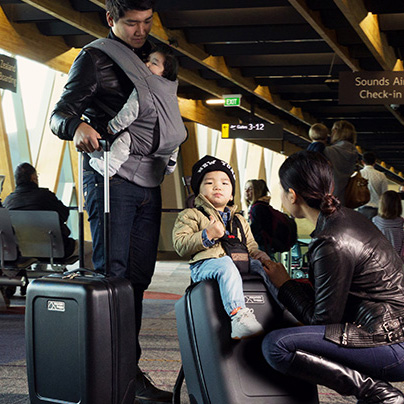 The Bag Rider offers dual functionalities, transforming seamlessly between a two wheeled cabin size hand luggage and four wheeled toddler ride on suitcase with a simple twist of the dial and attachment of the cushioned seat liner.
With two sets of wheels (four in total), bagrider can be easily manoeuvred in both modes of use. When using the ride on suitcase mode, the extended swivel wheels allow you to maintain a constant four points of ground contact without loss of manoeuvrability, these are simply tucked away for the classic two wheeled experience whilst in carry-on suitcase mode.
With safety foremost in mind, the Bag Rider's frame is made from strong, durable, yet lightweight nylon plastic and has been tested to support 15kg / 33lbs of weight.
The cushioned seat liner features a fully adjustable 5-point safety harness to keep your little one's center of gravity inside the wheelbase, which makes Bag Rider's stability comparable to a 4 wheel buggy.

Features
Designed to fit Child Size: 9 months* - 3 years (*when child can sit unaided)
Bag Rider Size: H x W x D - 520 x 380 x 260mm / 20 x 15 x 10"
Volume of the suitcase - 35L
Maximum Load: 15kg / 33lbs (weight of child)
Product Weight: 5kg / 11lbs
More Information
Material
Nylon Plastic
Weight
5kg
Included in box

Mountain Buggy Bag Rider
Instruction Manual