Beco Toddler Carrier Metro Black
Special Price
S$206.91
Regular Price
S$229.90
You Save 10% (S$22.99)
Currently, looking at this product
‌Soft Structured Toddler Carrier
Front, Back, Hip/Side Carry positions with Crossable Straps
Designed to use with toddlers 18mths onwards to about 6 years old (9 to 27kg)
The Beco Toddler Carrier Metro Black offers a generously wide darted seat and tall supportive back especially for big kids 18 months and beyond. Recommended for toddler weighing 9 to 27kg, the Beco Toddler Carrier is one of the largest toddler carrier in the market.
The Beco Toddler Carrier is made from 100% cotton that provides natural moisture wicking property which makes this carrier suitable for use in warm humid weather.
Every Beco Toddler carrier come with built-in waist belt pocket and toy ring and included in the package is a snap on hood and a zipper clutch bag that can be buttoned onto the top of the carrier panel.
A most ideal babywearing solution if you are looking for a big kid carrier that is fashionable, ergonomic, easy to use & can be used for your no longer small babies.
The Beco Metro Black Toddler Carrier is a full black carrier.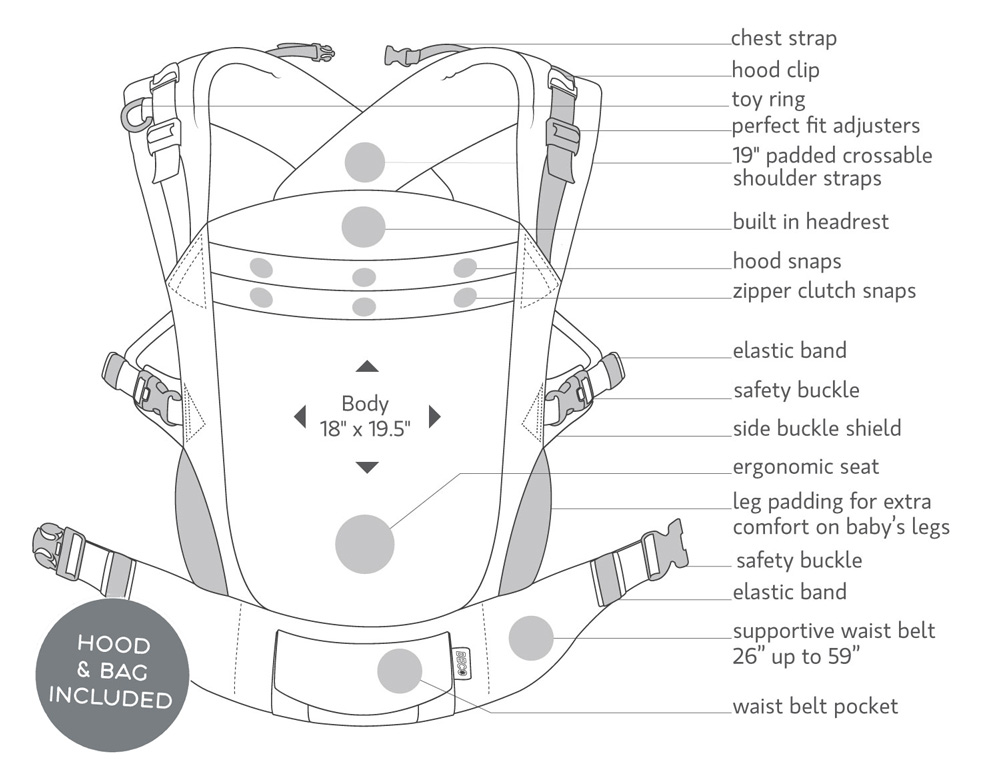 Highlights
Generously large, deep & high carrier panel to provide better support from toddler to pre-schoolers

3 carrying positions in 1 carrier - Front carry, backcarry & hip carry
Shoulder straps can be used backpack style or cross strap for greater comfort

Large panel pattern designs
Made of 100% cotton

Features
Supports baby in an orthopaedically appropriate 'M' ('frog leg') position that allows for healthy growth of the hips, pelvis and spine.

A built-in pockets on the hip belt that is great for on the go storage for small items like cash, mobile phones, pacifiers, keys etc.

High density foam waist belt for a close fit on the waist or hips, according to individual preference. This effectively distribute the weight of the baby over the hips and takes most of the weight off the shoulder straps.
Heavy-duty, military grade buckles prevent unexpected opening and ensures peace of mind. Buckles are padded for extra comfort for wearer.
Detachable sleeping hood keeps child safe in the carrier when they fall asleep
Detachable zipper pouch allows for some additional storage spaces when needed
Comes with toy ring on shoulder straps to easily attach small toys or pacifier
Rugged, durable and easy to clean. Machine washable.
Light-weight & compact design makes it easy to bring on shopping trips & vacation.
Can be used for children 9 to 27kgs
More Information
Carrier Net Weight
840g
Carrier Positions
Front Hug Carry, Low Back Carry, Hip/Side Carry
Recommended Child Size Limits
18mths to about 6 years old
Recommended Wearer Size Limits
Waist from about 26" (66cm) to 59" (150cm). Comfortably fits heights from about 5'0" (152cm) to 6'3" (190cm)
Manufacturer Weight Limit
9 to 27 kgs
Manufacturer Age Limit
Not Specified
Carrier Special Features
Plus Size Wearers, Plus Size Babies
Material
100% Cotton
Included in box

Beco Metro Black Toddler Carrier
Detachable Sleeping Hood
Detachable Pouch
Instruction Manual